---
---
Protect yourself and your family with this Less Lethal, Home Defense Pistol by Umarex—a perfect alternative to traditional firearms. This CO2-Powered, .50 Caliber air pistol utilizes pepper balls as a means of self-defense. This HDP includes a 6 round magazine, trigger safety, and a mounting rail for attachments such as lasers and lights.
Comes with rubber practice and pepper ball ammo.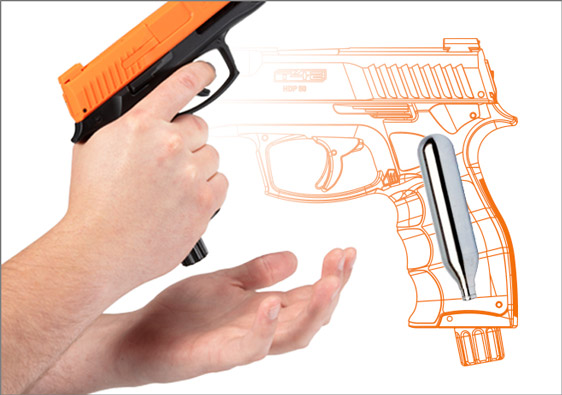 Split-Second CO2 Activation System
Insert one 12g CO2 capsule into the grip of the HDP 50. The split-second CO2 activation system keeps your CO2 unpierced and ready to carry. When ready to shoot, just give the piercing screw a quick tap to pierce and activate your CO2.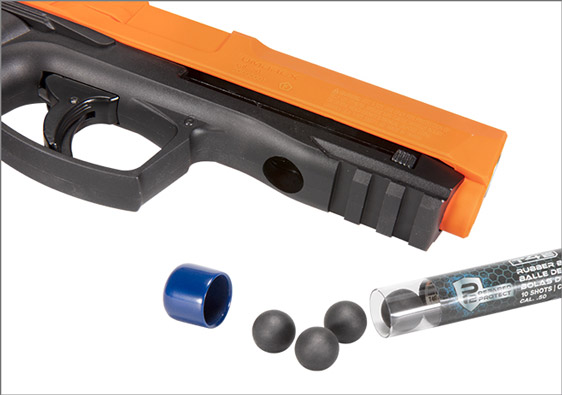 Loading Projectiles
The HDP 50 is easy to load with the integrated magazine. Just pull the follower back, insert six .50 caliber P2P pepper rounds, rubber balls, or powder balls and then slowly release the magazine follower back.
Features
A 6-shot internal magazine
Built-in Quick Piercing System for CO2 cartridges
Compatibility with rubber balls, chalk balls, marking balls, and pepper balls
A picatinny accessory rail for lights, lasers, and more
Fiber optic iron sights
Safety disengagement on trigger pull

Storage for one unpierced 12g CO2 cartridge ready-to-go at all times
Pepper rounds for less-than-lethal self-defense
Rubber balls for training and practice
Compatibility with powder balls for an even more realistic training experience
Includes
1 x Umarex T4E HDP 50 with Quick Pierce System

10 x Pepper Rounds

10 x Rubber Balls

1 x Cleaning Squeegee
Specifications
Caliber: .50
Weight: 1.5 lbs / 0.68 kg
Propellant: 12 gram CO2 capsules
Capacity: 6 round internal magazine
Action: Semi-Automatic
Velocity: 375 FPS / 

108 MPS

Pepper Dispersion: 12 foot radius
Barrel Length: 4 in / 10.2 cm
Ammo: Pepper Rounds, Rubber Balls, Powder Balls
---
SKU: UMRX-T4E-P2P-HDP-50-CAL-PPR-BLL-PSTL
---
---